Mini Subodh says I have been painting ever since I can recall. She began by drawing all kinds of trees and nature scenery in her childhood. Her father was a strict disciplinarian who staunchly believed that art could not be a career that earned name fame and money. So he discouraged Mini from pursuing Art as a career, even though she was constantly recognized by others for her talent. He wanted her to become a CA.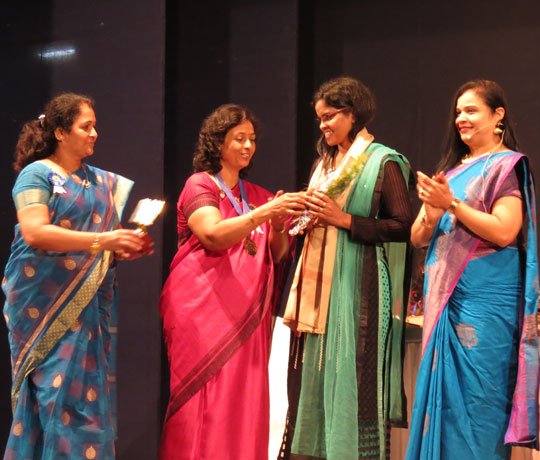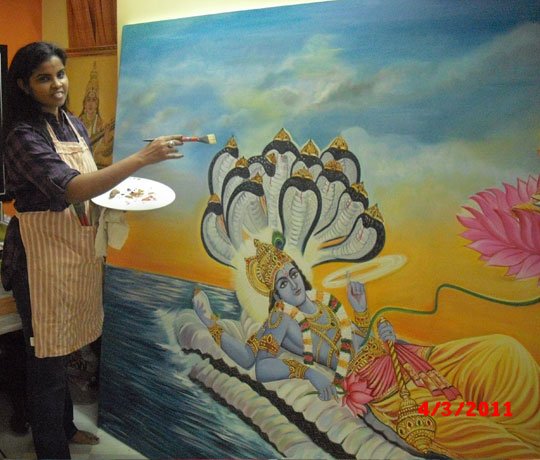 Mini's passion for drawing and art took her to Institute of Cine Arts in Kerala where she was introduced to oil painting. She found support in her siblings who would provide her necessary materials to pursue her hobby.
Mini made paintings and gifted them to temples and people. She went on to join the Fine Arts Institute in Trivandrum in 1990, where she experimented with different medium and learnt more about styles and strokes.
Her life changed post marriage, as her spouse supported her desire to pursue her hobby uninterrupted. She now began fervently working on her paintings and soon
held an exhibition at Cymroza Art Gallery in 1997-98. She also accompanied her hubby on his trips abroad and they visited numerous Art galleries in US, France, and other countries of the world.
Mini had now found her path and she started walking on it with no looking back further. She began taking classes at home as her children were young and slowly she grew her passion by the number of students who enrolled for learning from this self taught artist. Her lively spirit and passion for her craft won her lots of accolades and recognition locally. She began holding regular exhibitions from 2010 and donated the proceeds to charity. That's a rather rare quality that few show in today's world.
Although she was doing fairly well, with her children now grown up, Mini got motivated to so spread her craft to more individuals especially those who wanted to pursue art as a hobby but couldn't as they did not get support or professional guidance to master the craft. This made Mini set up Strokes – An Exclusive Art Studio in Dec 2016.
In her words: "If you have hands and interest to follow your dream, nothing should stop you …!"
I can teach you to paint and grow. 'I'm here to support such individuals irrespective of their age. We have students from 6 year to 68 year olds pursuing their hubby at Strokes.
She has recently opened another branch in Aug 2017 at Hiranandani Meadows. She plans to exhibit her students work here so they too get recognized for their talent and can take it ahead. Strokes is a platform for nurturing talent in young and old alike. Mini pays attention to: (1) Detailing, (2) Outlining, (3) Giving tips and tricks to clear art exams and highlight individual painting styles in different medium right from poster crayons to water, oil, acrylic, pencil sketching, sculptures, etc.
Her studio is set up to hold regular workshops and bring talented artists to the city for its public to explore and benefit from the Facilities locally. If you are looking at a place to learn, experiment, and perfect your art in one or different medium, Strokes – An Exclusive Art Studio us the place to go to. So, what you waiting for? Get started … Whether it's you or ye young one, discover your talent at Strokes and adorn your home with your own paintings and creations giving it a personal touch.